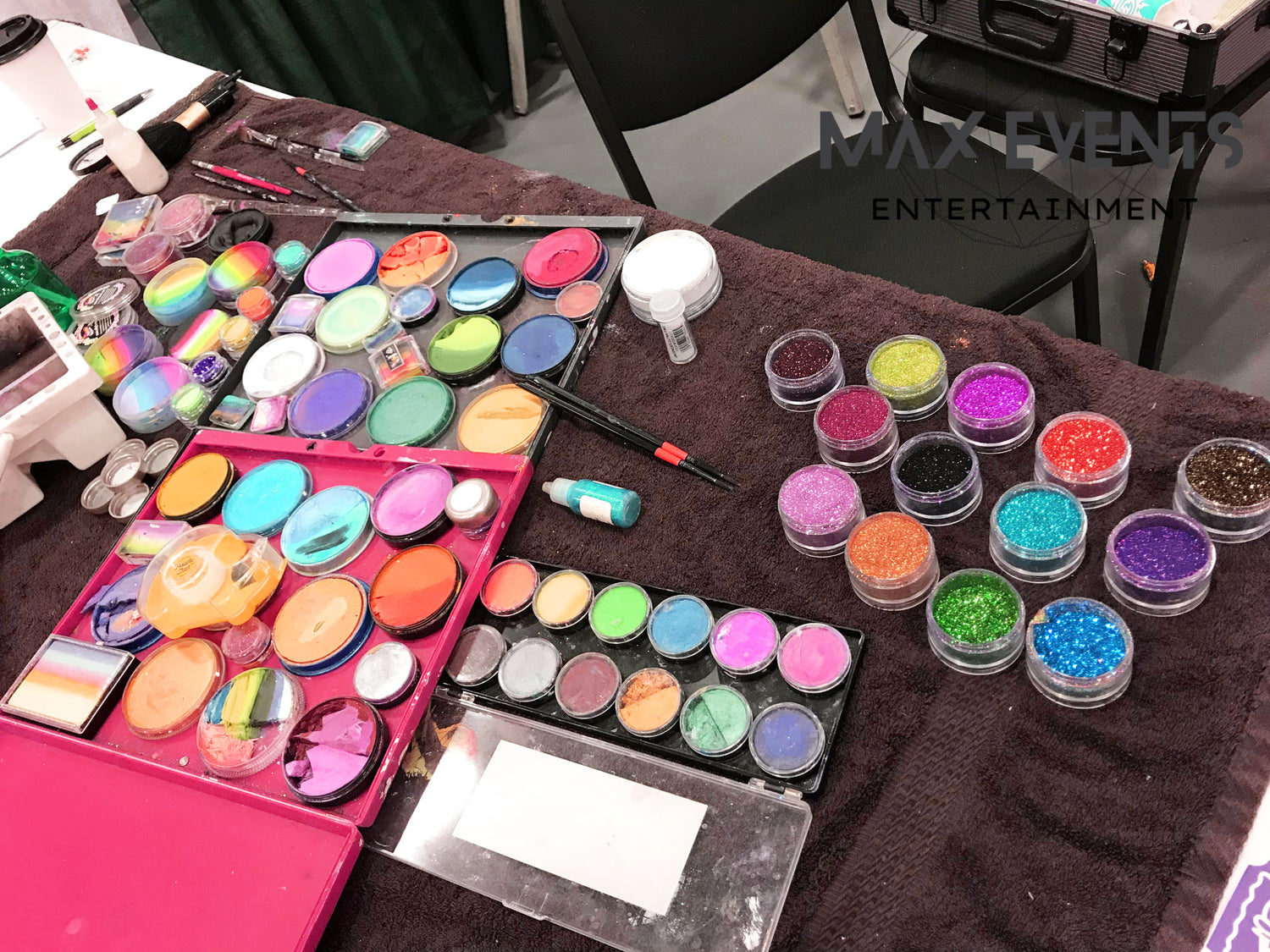 Face Painting
At Max Events Entertainment, we offer professional face painting services using only the highest quality, FDA-approved and non-toxic face paints and cosmetic glitters from top brands like FAB/Superstar, Kryvaline, DFX, TAG, and Global. Our talented artists can create a wide range of designs for any event, from birthday parties to corporate events. We are based in Calgary, Alberta, but we provide our services across Canada. Contact us today to book your appointment and add some color to your next event!
Get a Free Quotation Now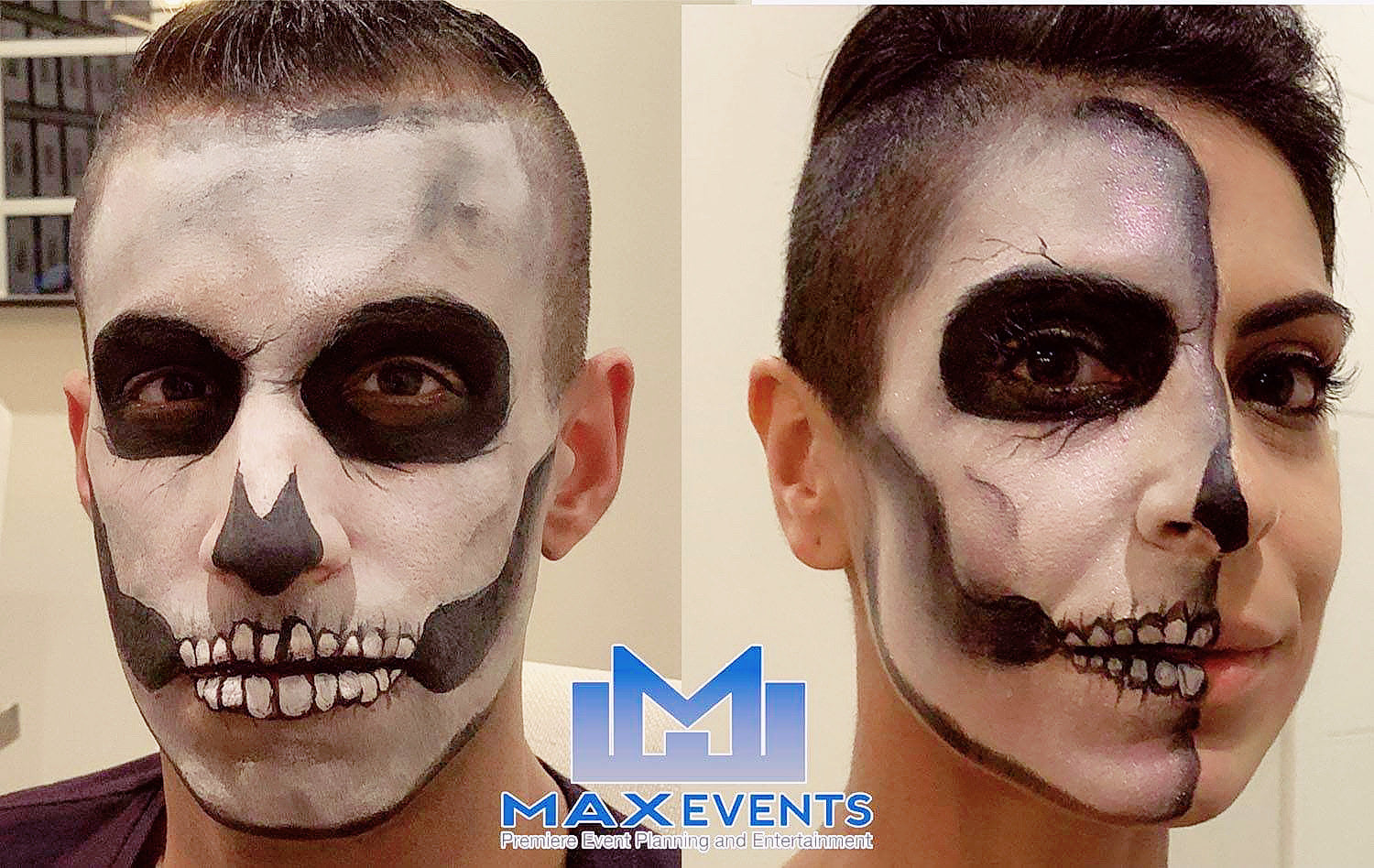 WHAT SHOULD I USE TO REMOVE FACE PAINT?
The best method for removing face paints is good old fashioned plain soap and water. Make sure you use an old towel as even when you think you have removed the paint you will find it comes off on your towel. Baby wipes and other such products to remove paints should be avoided as sometimes a reaction can occur with the chemicals in the wipe.
View more detail here
Face Painting FAQ
IS FACE PAINT SAFE FOR SKIN?

Yes! Have you ever wondered why liquid cosmetics such as foundation never mold... even after sitting in a drawer for years? Cosmetics contain antimicrobial preservatives. These keep bacteria from growing in water based paints (and cosmetics in general) while being gentle and safe. Our brushes and sponges are cleaned regularly with antibacterial soap. Your child has a greater chance of catching a virus while waiting in line than from having their face painted. Additionally at the artist's discretion, we won't paint skin with any kind of condition such as conjunctivitis, cuts, sunburn, or other rash.
As far as allergies, if you have sensitive skin please request a patch test prior to being painted. I have been painting since '09 and nobody has ever complained of a reaction. These products are the Clinique of face paint.
CAN YOU PAINT MY BABY'S FACE?

For your child's safety, we'd prefer not to paint the faces of kids under three years of age. Paintbrush bristles are joined to the wooden handle with thin sheet metal called the ferrule. Not ideal near the eyes of a wee wiggler. We're happy to paint a design on a little arm for kids under three. At that age, they like to be able to see it without a mirror anyway.
WHAT KIND OF PAINT ARE YOU USING?

Face paint isn't paint, it's technically a cosmetic makeup specifically for skin. Many amateurs use acrylic craft paint which is dangerous, harmful, peels, stains, and looks terrible once it dries. We use only FDA approved face / body paint for the skin because we are committed to the safety of our clients. These water based formulas are specifically designed to be hypo-allergenic, gentle and easy to remove with mild soap and water. The brands we use are TAG, FAB, Paradise, Wolfe Brothers, Silly Farm, and Kryolan. We use only skin / makeup grade poly glitters.
 HOW MANY FACES CAN YOU PAINTIN ONE HOUR?

We can comfortably paint an average of 10-14 faces in an hour depending upon the complexity of the designs chosen. Usually for younger children we have a basic selection of designs that are quick and easy to do to save them having to sit still for too long.
CAN YOU PAINT WITHIN THE THEME OF MY CHILD'S PARTY?

Absolutely! Just let us know the theme of the party when booking and we will make sure to have some faces ready for the event. Though, keep in mind that more time may be needed per child depending on the complexity of the design and this may affect the booking time.
WHAT DO I NEED TO PROVIDE?

Absolutely NOTHING... we are professionals, we bring everything we need. The only thing we do ask for is a shaded area. Trees do not give proper coverage, also please be mindful of weather, if it's cold outside we need to be indoors, if it's so hot everyone is melting we need to be indoors. Thank you for understanding, as it is hard to paint in certain weather conditions. Unlike you and your guests who can go in and out due to weather we are not able to do so. Standing and painting in temperatures as low as 50 degrees or high as 110 degree for several hours can be dangerous to our health.
HOW DO YOU KEEP YOUR SUPPLIES SANITIZED?

The Face Paint brands I use are designed to be used by multiple people. It contains enough antibacterial ingredients to make it safe for this industry. I clean all my supplies after each event...paints are wiped down, brushes and sponges washed, etc. I also use "brush bath" with sanitizes my water at an event and a cosmetic sanitizing spray for paints and brushes.